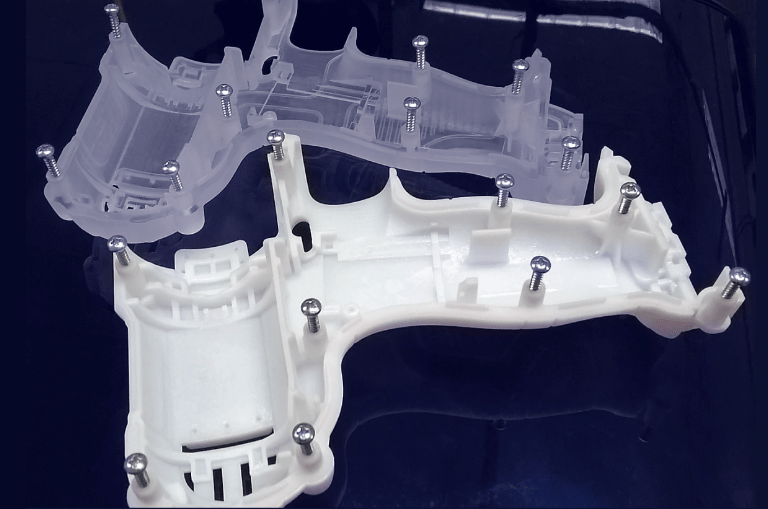 Bosses, a common design element, offer a low-cost way to align and strengthen parts in plastic injection molding. They are also used to create points that connect parts of a product together. However, designing a boss, as simple as it looks, requires careful consideration to meet the functional and cosmetic requirements of the plastic part.
With over 25 years' experience in injection molding and prototyping, we at Xcentric know what usually gets overlooked in parts design and what the consequences are. Here, we share the common pitfalls to avoid and key factors to consider when designing bosses.

What is a Boss?
A boss is typically a protruding feature on a part. This protruding feature is used as a mounting fixture, location point, reinforcement feature, or a point of assembly. It is often designed as a cylindrical projection with a hole to receive a screw, an insert, or a threaded fastener.
Well-designed bosses are:
✓
Easily and rapidly assembled
✓
Resistant to part failure
✓
Able to withstand tension, compression, torsion, and flexing (if required as part of their end function)

When adding a boss to a molded part, you must first consider its function. A second consideration is any type of force that may occur during assembly and service that could impact the part (this includes cosmetic impact). Taking these into account can help you prevent defects, lowering the risk of costly part rejects.
Sink Marks and Warping
Another way to understand bosses is to consider this feature as a round rib, and so like ribs, a poorly designed boss can easily cause sink marks or warping due to shrinkage.
Plastic shrinkage is undeniably one of the biggest challenges in injection molding. During the injection molding process, the material used and the part design can drive the polymer to behave in varied ways. The polymer may cool at different rates in different sections of a plastic part. If the material near the surface cools and shrinks faster than the material near the core, it can cause depressions in the surface and stress inside the part. Thick regions of plastic are more prone to sink issues. Thin sections that are pulled in towards the thick section during the cooling process run the risk of warp.
These uneven dimensional changes can cause other mold flow problems, result in cosmetic flaws and even product failures.

Key Considerations for Plastic Boss Design
Managing shrinkage during the injection molding process is a complicated task. Here are some important boss design considerations our Xcentric experts emphasize when helping customers design their plastic parts:
Wall Thickness and Height
Depending on the shrink rate of the material used, the wall thickness and height of a boss is critical to help minimize sink and warpage.
While bosses should have thick enough walls to provide holding strength for fasteners, especially threaded ones, the walls must not be so thick as to cause sink marks. As a rule of thumb, the wall thickness of a boss should be 40 to 60 percent of the nominal wall to minimize sinking.
Likewise, a taller boss does not necessarily equate to more strength. Firstly, there should be enough material to allow for sufficient thread engagement to prevent stripping. Secondly, with a tall boss, there are implications in terms of the time it takes for the core pin to cool (longer), which eventually affects the dimensions of the cored hole.
Placement
It is good practice to connect a boss to the nearest side wall with a rib for better rigidity and material flow. Nonetheless, to avoid thick sections that will cause sink, be careful not to place bosses directly in the corner or fill the space between the boss and the wall.
If the boss is located far away from the wall and cannot be tied to it with a rib, another way to strengthen the boss and prevent warping without thickening its walls is to surround the boss with gussets.
Ejection
As with most other molded plastic parts, the walls of a boss must be drafted to facilitate ejection. Adding drafts to both the inner and outer walls allow the boss to be easily removed from the steel mold without damage or breakage. Additionally, incorporate fillets into your boss design whenever possible to eliminate sharp corners that may cause stress concentrations and poor flow patterns.
While the draft angle and fillet radius depend on the depth and the wall thickness of the boss, make sure that the combination of these elements does not create a thick section that will result in sink marks.

Boss Design Tips for Molded Plastic Parts
So how do you ensure the best moldability and part quality with bosses while balancing cost? Follow these tips!
Looking for further guidance on your boss design? Work with an Xcentric expert to ensure your parts are optimized for cost, performance, and productivity. Whether your requirements are simple or complex, we can handle most projects in 15 days or less.
If you have a project you'd like us to quote for, submit your project here, and our team will be happy to provide expert advice.
About Xcentric
Founded in 1996, Xcentric Mold & Engineering is an innovator of on-demand digital manufacturing and continues to lead advances in injection molding and rapid prototyping. We know what it takes to deliver a high-quality product on time and on budget. Xcentric is engineered to be nimble, employs a team of experts in injection molding, and takes an engineer centric approach to everything we do. Tens of thousands of product developers and engineers across North America trust Xcentric to bring their products to life.
Learn more about what Xcentric can do for you here.
Questions? Contact our friendly sales team here or on 586-598-4636.